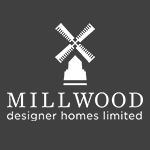 Millwood Designer Homes
Bordyke End, 59 East Street, Tonbridge, Kent, TN9 1HA
Millwood Designer Homes builds a broad range of individually designed homes from contemporary styled apartments to more traditional two and three storey homes. Many new Millwood Designer homes combine period charm with all the benefits of the latest advances in construction and energy-efficient technology. Traditional exteriors with the more contemporary interiors, whilst cottage style homes, as well as Georgian facades are becoming more and more prevalent in Millwood's portfolio.
Millwood Designer Homes is based in Tonbridge, Kent and its exclusive developments can be found in country, town, village and waterside locations throughout Surrey, Kent and Sussex.

By ensuring that all landscaping is sympathetic to the environment and that natural features and existing planting are retained whenever possible, the company enhances the rural aspects of any regenerated brownfield land. Millwood also strives to use reclaimed bricks and roof tiles at many of its schemes to embellish the traditional design.
Millwood's continued policy of combining all that is best in local architectural history with the latest in modern technology and innovation has won the company many prestigious awards.

Millwood Designer Homes by Area
Browse the latest new homes by Millwood Designer Homes nationwide