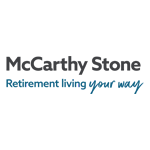 McCarthy & Stone
4th floor, 100 Holdenhurst Road, Bournemouth, Dorset, BH8 8AQ, Bournemouth, Dorset, BH8 8AQ
The number one UK housebuilder for retirement properties
McCarthy and Stone is the leading retirement housebuilder in the UK and the only housebuilder to achieve a five-star rating in the Housebuilding Federation Satisfaction Survey every year since the survey started in 2005. The company was formed in 1975 when John McCarthy and Bill Stone entered into a partnership. It began focusing on building retirement properties from 1977 onwards and the rapid growth of the McCarthy and Stone property group resulted in the company being listed on the stock market in 1984. 
In addition to being a housebuilder, it manages and maintains its developments under McCarthy and Stone Management Services. In this way, it's a company that aims to provide a comprehensive service in regards to their retirement developments. There are three to its retirement homes building portfolio, which are Retirement Living, Assisted Living and a recently launched brand, Ortus Homes.
Size 
Based on a survey of retirement properties sold across the UK in 2014, McCarthy and Stone has around 70% of the owner-occupied retirement development industry making it, by some margin, the leader in building and maintaining retirement homes in the UK. It's estimated they have built approximately 50,000 new homes in the past 37 years and, for the future, the company is looking to build an impressive 3000 new homes each year. In 2014, it was listed as one of the Sunday Times Grant Thornton Top Track 250 leading UK companies.
Types of houses built
McCarthy and Stone exclusively builds retirement developments and its properties come under three banners: Retirement Living, Assisted Living and Ortus Homes. 
Retirement Living properties are designed to allow retirees independent living within a safe and secure environment. They have communal areas for socialising and the overall development is looked after by a property manager. 


Assisted Living Properties are designed for residents who need a little more support and assistance with day to day living. This is done through an estates manager and an on-site support team. There is an in-house restaurant in these developments plus the opportunity for residents to stay (for a small fee) in the complex when visiting. 
Ortus Homes aims to give retirees luxury, top-of-the-range age-exclusive properties in exceptional locations. They are contemporary-designed, low-maintenance properties that give privacy as well as security. 
Locations 
McCarthy and Stone builds its properties right across Britain from Inverness to Truro. It has many retirement properties in coastal and rural locations as well as in major cities including London. 
Affordability schemes
McCarthy & Stone offers a part exchange scheme which means they guarantee a buyer for your home and as such you won't have to deal with estate agents or other, often difficult, aspects of selling your property. The company has benefits advisers for those moving into retirement homes and who need help regarding benefits such as the Assisted Living Allowance. 
WhatHouse? Awards 
Emma Court and Lady Susan Court, joint developments built by McCarthy and Stone in Basingstoke, won the Bronze Award for 'Best Retirement Development' at the WhatHouse? Awards 2014. 
Home Builders Federation Satisfaction Survey
As of 2016, McCarthy and Stone is the only UK housebuilder of any type or size to be awarded five stars every year since this benchmark, independent customer satisfaction survey began in 2005. 
Environmental Credentials
McCarthy and Stone's Dean Mills Court in Canterbury won the Green Leaf Award in 1998, the housebuilding industry's top environmental award. In 2013, the company introduced a Green Travel Plan which allows homeowners at some of its developments to make better use of public transport and delivery services in the local area thus helping the environment.
McCarthy & Stone by Area
Browse the latest new homes by McCarthy & Stone nationwide