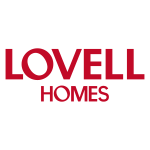 Lovell
Marston Park, Abbots Bromley, Staffordshire
Lovell inspires transformation in communities. We have become the nation's complete housing solutions specialist by combining industry expertise, unrivalled local knowledge and a willingness to think innovatively and ambitiously. We leave a lasting legacy in every community in which we work.

For over 30 years Lovell has been working with local authorities and housing associations, helping communities rebuild their identities with confidence and pride. Lovell was already an industry leader but has further increased the size and scope of its operations with the recent agreement to take on a number of significant contracts from Connaught. We are able to draw on wide experience, great expertise and unrivalled economies of scale.

People are always at the heart of what we do. Whether that's giving a resident a new outlook on life or an employee the tools to reach their potential, everything we do reflects our passion for providing opportunities for people and communities.

We have an unshakeable vision and belief in what can be achieved through the regeneration of communities - and the record to show that not only can we create long-term, sustainable change but we also have the ability to far exceed both our clients' and our residents' expectations.

Lovell by Area
Browse the latest new homes by Lovell nationwide