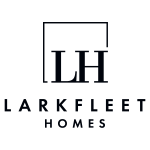 Larkfleet Homes
Larkfleet House, Falcon Way, Aby, Lincolnshire
Larkfleet Homes is part of the Larkfleet Group, a privately-owned housebuilding and development organisation with a strong record in creating sustainable homes and communities.

Based in Bourne, Lincolnshire,Larkfleet's mission is to produce high quality sustainable developments using innovative technology and construction methods, delivered to exceed its customers' expectations. Larkfleet Homes currently has developments in Lincolnshire, Cambridgeshire and Rutland and offers a variety of properties to suit a range of homebuyers.

As well as providing properties that are perfect for first-time buyers and growingfamilies, Larkfleet offers quality age-exclusive housing for the over 55s, providing stylish and independent community living. Many Larkfleet properties can be purchased under the government's NewBuy and FirstBuy schemes. Larkfleet also offers many incentive schemes to make the buying, selling and moving process less stressful for its homebuyers.

Larkfleet's building methods highlight its commitment to creating well-built and energy-efficient homes. Larkfleet homebuyers gain extra added value in the long term due to the energy-efficiency that is built into the fabric of theirproperties. Additionally, Larkfleet offers renewable technologies such as PV panels on many of its properties, benefiting homeowners for years to come.

With increasing energy prices, Larkfleet properties are an investment for the future. The energy-efficient nature of Larkfleet homes could save homebuyers up to £600 a year in fuel bills. Larkfleet is proud to be regularly recognised with awards at a national and regional level for its quality, energy-efficient housing.

Larkfleet Homes by Area
Browse the latest new homes by Larkfleet Homes nationwide