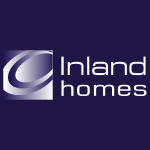 Inland Homes
Decimal Place, Chiltern Avenue, Addington, Buckinghamshire
Inland Homes is a dynamic developer of urban regeneration projects around southern England. Predominantly specialising in brownfield developments, our highly experienced team can provide solutions to a variety of difficult and sensitive land situations.

Inland Homes successfully navigates the complex planning system, applying meticulous attention to detail throughout the design process whilst utilising our close working relationships with local authorities. Our ability to identify and control sites has resulted in our track record in the development of brownfield opportunities to be second to none.

As a company with a substantial equity base and a small management team, we are quick to take action. Nowhere is this better demonstrated than in our proactive and responsive approach to purchasing land and maximising site potential where others might hesitate.

The identification and selection of suitable land is a key factor in the overall operation of our business and is paramount in securing steady growth and a successful future. This is achieved with the help of a dedicated land and planning team with over 30 years of experience in this specialised field.

Inland Homes by Area
Browse the latest new homes by Inland Homes nationwide